Copenhagen Light Rail wins ARTS THREAD
Copenhagen Light Rail is awarded winner of the competition ARTS THREAD Global Design Graduate Show 2021 in collaboration with GUCCI. Category: Interior Architecture.
ARTS THREAD was founded to give art & design graduates the opportunity to showcase their degree projects. 5211 students from 417 universities and 109 nationalities participated. Making the competition officially the biggest ever worldwide showcase of undergraduate, graduate & postgraduate ​design and art projects.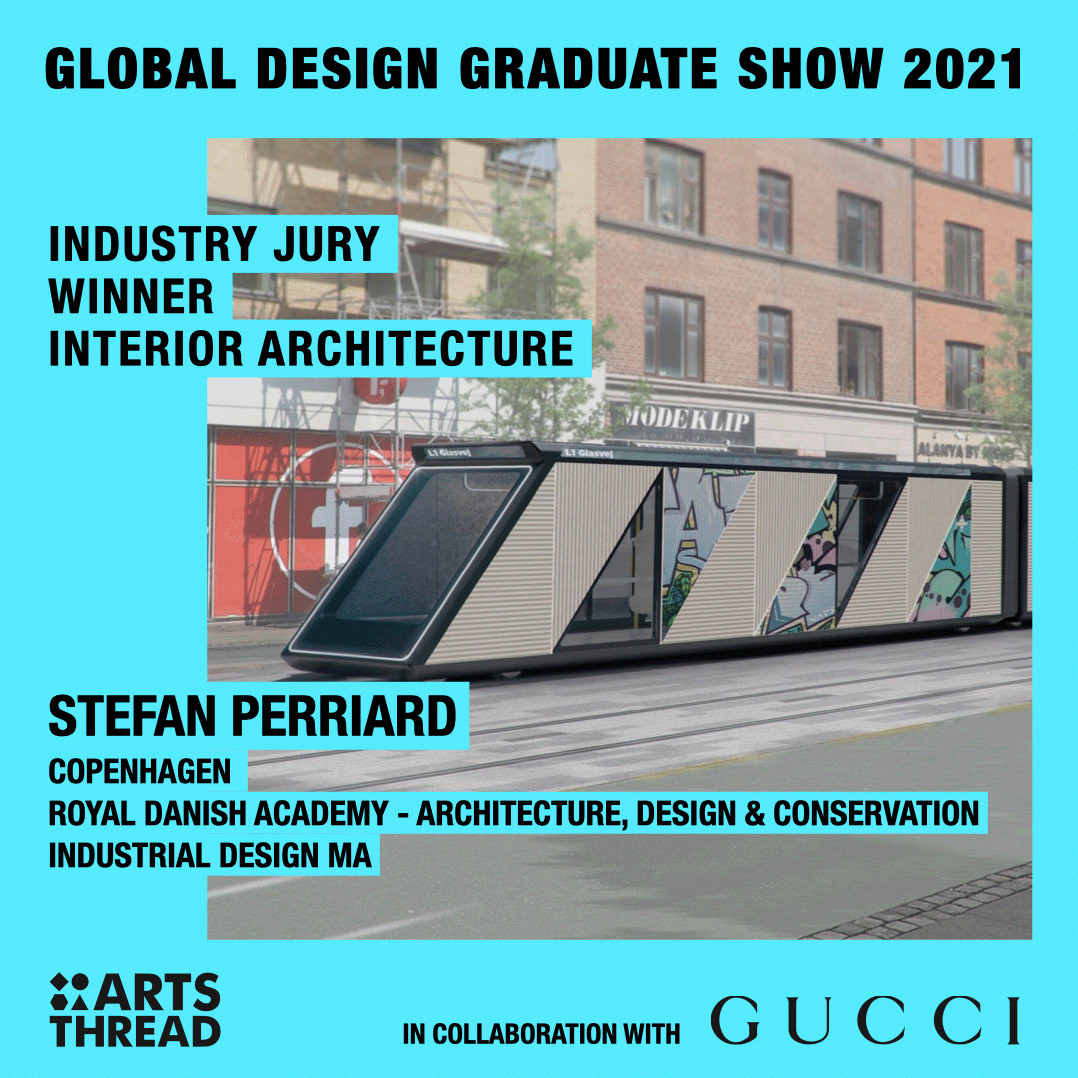 ARTSTHREAD & Gucci
The prestigious panel of judges:
- Tom Meades. Gomi Design, Co-founder
- Francesca Perry. Icon, Editor
- Ilona Gurjanova. Estonian Association of Designers, President 
- Federica Bertolini. Azimut Benetti Group, Style Manager 
- Maha Kutay & Woody Yao. Zaha Hadid Design, Directors
- Luca Putteman. Awareness-raising expert, United Nations
- Chris Livaudais. Industrial Designers Society of America, Director
- Nick Chubb. IDC, Head of Design
- Gary Wheeler. American Society of Interior Designers, CEO
- David Morris. Design Exchange Magazine, Founder
- Adrian Jankowiak. Nairobi Design Week, Founder
- Oli Stratford. Disegno, Editor-in-Chief
- Valerie Hoffman. NYCxDESIGN, Program Director
- Stig Engelbreth Hansen. Democratic Eyewear, CPO
- Sebastian Conran. Sebastian Conran Associates, CEO
- Ilene Shaw. Design Pavillion & Design Talk NYC, Founding Producer
- Mazbahul Islam. Safewheel, Co-founder
- Rory Dodd. Ceneic, Co-founder
- José Cabaço. Adidas, Creative Concept and Storytelling Director
- Ravi Naidoo. Design Indaba, CEO
- Alberto Perazza. Magis, CEO
- Ewa Dominiak. Service Design Fringe Festival, Co-organiser & Team Leader
- Clodagh Design. Clodagh Design, CEO
- Marcus Fairs. Dezeen, Founder & Editor-in-Chief
- Stuart Constantine. Core77, Foundering Partner & COO
- Richard Elder. Herman Miller, VP & Creative Director
- Phillip Hollander. Houtlander, Founder
- Milan Dinevski. Future Architecture, MAO Museum, Platform Manager
- José Manuel dos Santos. Signify, Head of Design
- Jamie Drake. Drake/Anderson, Partner
- Howard Lichter. ARRIVAL, VP & Special Projects
- Tim Marlow. Design Museum London, Director
- Ingrid Van der Wacht. Dutch Design Foundation, International Public Affairs Manager